From Our Home To Yours...
How it started...
Scentish was founded on April 2018 by Nicola McLoughlin one rainy evening in her living room, and with some encouragement from partner Sean Kierans, the company was born, originally kown as 'The Soap Shack'.

We're quite down to earth, chilled, a bit silly Northerners from a small town in Lancashire, so the original plan was simply for Nicola to have a small business she ran on her own, to make a modest living from. Nothing too fancy. It didn't turn out that way...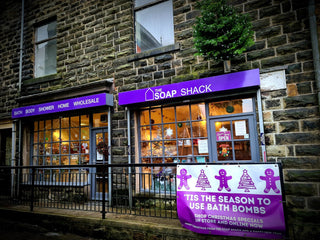 Home becomes a factory...
Nicola & Sean's home became a factory, and every spare inch of space was taken up by products, and Sean joined the business full time leaving his career behind, and with the help if Nicola's Nan, worked all day and night to fulfiil orders with fresh, handmade cosmetics.

Finally outgrowing our home, we moved in to our first shop and opened on January 25th, 2021.
How we grew...
2 Months after we opened our first shop, Covid Lockdowns hit, and like many businesses, we had to close our shutters, and both Nicola and Sean thought that was the end of the business.

But, we we're lucky, very lucky, that during this period we grew rapidly, and a few months later, we took on our first employee. By the end of that year, we had 6 employees.

But we'd outgrown our little shop, so we moved into a 3,000 square foot factory, and moved to a bigger shop.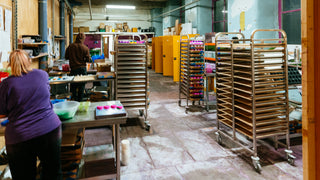 A little setback...
February 2022, we'd just moved in to our new factory and shop, our wholesale side had also grown and we were now making products for other large brands. We rebranded as Scentish, and plans were in the works change our look.

Then, Sean was diagnosed with Thyroid Cancer, which shifted the focus on health and our plans got put on hold for the time being being.

Thankfully, in March 2023, Sean got the all clear after an 18 month battle, and now it's time to expand.
The future...
Overcoming a few years of setbacks, our plan is now in place, this new website, new branding, new products and expansion in to Europe.

Nicola is still at the head of the business, designing and creating all the new products, still very much leading from the front like the early days. Our team has grown a little more, you can meet them below, and we've expanded our factory some more.

We're still only a few months in to our big expansion plan as we write this, so I guess you'll have to check back with us in another year to find out how it's going, but it's been an exciting journey so far, and it's all down to you guys keeping us busy, so from the bottom of our hearts...

Thank You sooo much 🫶